Restaurants


Casa de Luz a place that houses the light
The philosophy of how to live a great life (macrobiotics) is the founding idea for Casa de Luz. This is an all encompassing philosophy, which includes all methods of supporting health and freedom. Our mission is to offer a sacred space for those that want to bring their disciplines to share with the community.

Casa de Luz is open to all. Our reason for being is to practice and live in integrity. We believe that living with integrity includes practicing, learning, teaching, and sharing actions and philosophies to develop conscious living and cognition. It also takes commitment, authenticity, appreciation and openness to being wrong. The search of improvement is necessary, least we become arrogant and dogmatic. This is a place that is ever changing and colored by the practices that people bring to share.
Casa de Luz is a commitment to health. Health being affected; from our thoughts and actions, to the micro nutrients we put on our fork, to the Earth and all of it's inhabitants as a whole. It's a place for all of us to nourish – to heal – to relax – to learn & to share. All are welcome.

Our menu is 100% organic plant based cuisine with macrobiotic philosophies. It changes everyday and it's a collaboration between our highly skilled chefs & kitchen crew. Follow us on Twitter to have our Menu sent to you or just check it out here or on our Facebook page.
---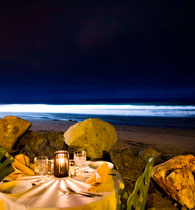 The Beach House Cardiff
A relaxing afternoon watching the surfers at Cardiff Reef or a romantic evening with the sun setting over the sea...the exciting new cuisine of recently-arrived acclaimed executive chef Michael Ingino...the value of our famed daily Happy Hour and nightly Sunset Specials...two heated outdoor patios so close to the sea you might just get splashed, al fresco dining at its finest...the energy and excitement of the Top of the House Grill, the comfort of our dining room...Lunch, Saturday and Sunday Champagne Brunch, and Dinner...Cuisine, Service and Value to match the stunning views...The Beach House...Lobster, Fine Steaks, Fresh Fish...World Class Wines, cool Libations and Martinis...on the beach in Cardiff by the Sea, two miles north of the Del Mar racetrack.