Programs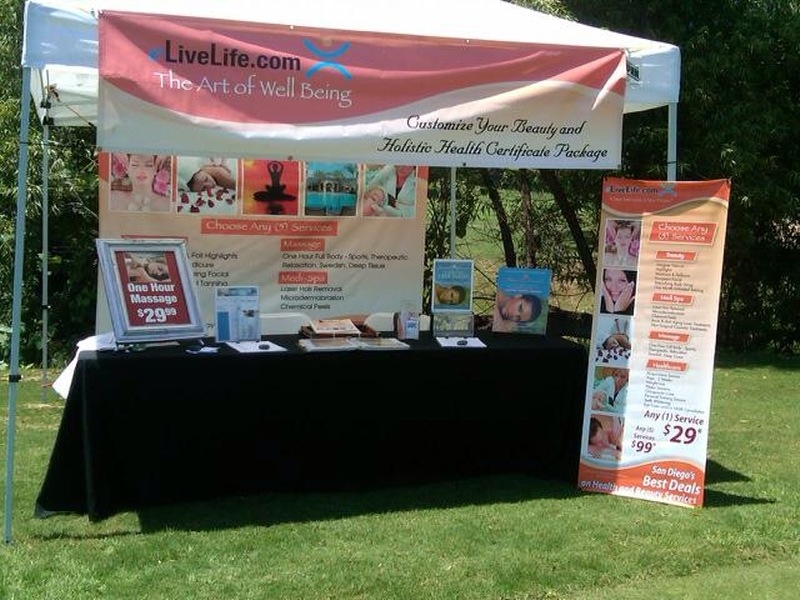 When your company enrolls as a new client member into the eLiveLife.com Network, your business will benefit from the following programs:
"PROMOTIONAL OFFER" CERTIFICATE PROGRAM
After reviewing your business's services and past marketing efforts, we will create a new and exciting introductory offer. It will be created in a "Promotional Offer" format (similiar to a gift certificate), which will be sold via the internet and at special events. This promotional period term is usually for one year, while each new cient will be given a six month period to redeem such services. Every client though has an individual marketing goal so our new client program will vary based on our clients needs.
WELLNESS and WELL BEING SCREENINGS
Participate in events, kiosks, college campuses, vendor fairs and public and corporate health and fitness fairs Fees for these events are dependent upon booth rental, labor and electricity fees. You will have the opportunity to introduce yourself and your service, book future appointments and build relationships with prospective long term clients.
SPECIAL EVENTS
We participate in over 300 special events per year such as the Buick Invitational Golf Tournament, San Diego County/Del Mar Fair, 98.1 Annual Jazz Festival, 98.1 A New You, Body Mind & Spirit Expo, SHARP'S Women's Health Symposium, Ocean Beach Block Party, Street Scene, Earth Fair, San Diego Pride Festival, the Miramar Air Show and many more. As a member of the eLiveLife.com network,we will promote your business at most special events that interests you.
Please email or call us for our updated PowerPoint presentation for a list of all special events.
---
MEDIA PARTNERS:
SIGN ON SAN DIEGO is a news and information service intensely focused on the San Diego region. Just like the name implies, you can sign on the Internet to find out about anything San Diego. It's a product of San Diego's leading source of news and information, The San Diego Union-Tribune, so you can expect it to be the best, largest, fastest, most accurate, most useful online service in the area. We pay $250 per month for a revolving advertisement and a listing of our specials on the Health and Beauty page.
Every month we have a quarter page ad in the VISION MAGAZINE, Catalyst for the Conscious Mind. This is the fastest growing well being, holistic, and spiritual health magazine in the Southern California filled with informative articles, classifieds as well as display advertisiments. Every elivelife.com client can take advantage of a 10% discount towards advertising their business through VISION MAGAZINE.
WEBSITE DESIGN AND DEVELOPMENT EXCLUSIVE PARTNER:
PACIFICA TECHNOLOGIES offers solutions with a suite of tools that allow your business to build, market and generate revenue from your Website. We are dedicated to providing easy-to-use and affordable tools with extensive eCommerce capabilities to help grow your business.
Our solution includes hosting of the Website and email services. We provide unlimited training and support to ensure you will always have someone to go to for your on-going Website needs.
Our primary objective is to help you promote and grow your business online.
REFERRAL PROGRAM:
For any eLiveLife.com network service practitioner looking for extra $$ we are offering you our REFERRAL PROGRAM. For every service provider you refer that SIGNS UP with our network we will issue a $300 cash bonus! Referrals include ANY LICENSED practitioner involved in health, beauty, fitness and/or well being. For referrals email info@elivelife.com
FITNESS CENTERS
We set up promotional sales inside many fitness centers, i.e.Bally Total Fitness, Westside Athletic Club, San Diego Fitness and Racquet Center, 24 Hour Fitness, LA Fitness, and La Jolla Athletic Club. This strategic partnership gives our network of well-being service providers extra exposure in a targeted market.
---
CORPORATE HEALTH FAIRS:
We are a member of LifeStyles INFOCUS, the premier coordinator for corporate well being programs for Southern California's workforce. We also participate in Health Dimensions and Spice of Life Corporate Health and Wellness events that also allow us to promote our clients services. We set up promotional tables at these exciting, educational and interactive events for the areas most renowned corporations, school districts, hotels and government agencies.
---
COLLEGE CAMPUSES:
One third of San Diego's economy comes from the University system. We promote you at college campuses throughout San Diego; USD, UCSD, SDSU, Mesa College, Grossmont College, Cuyamaca College, etc. by setting up promotional tables at the Quarterly event/fairs. Email info@elivelife.com
DIRECT SALES TEAM
Word of mouth promotion is invaluable. Our promotional sales team consists of knowledgeable and professional sales agents who promote your business in your area. We talk to hundreds of prospective long term clients everyday on your behalf. Just think of what it would cost you per day to hire, train, and manage even just one sales agent.
RADIO STATIONS:
We work with many radio stations such as Magic 92.5FM, KyXy 96.5FM, Jammin' Z90, Star 100.7FM and KIFM 98.1FM. Your business will receive on-air name mentions, i.e. "caller number 10 will receive a day spa package from A Better Body Day Spa and Salon in Clairemont Mesa".
PUBLIC RELATIONS:
As a member of our network we promote your business at many non-profit silent auctions and fund-raising events all over the San Diego area. The following is a list of the charities we've worked with in the past. If you have a charity or fund-raising event in mind, our public relations staff would be more than happy to contact the event producer on your behalf!