Golf Courses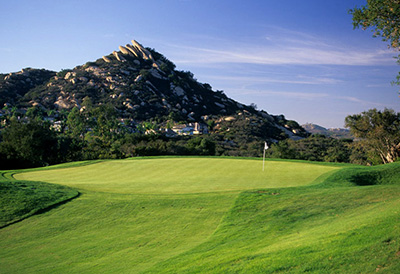 Mt. Woodson Golf Club, 16422 North Woodson Drive, Ramona, CA 92065 (760) 788-3555
Don't let our 6000 yard par 70 golf course fool you. World renowned golf course designers Brian Curley and Lee Schmidt have created a stunning work of art for your entertainment and enjoyment.
MT. WOODSON'S SCENIC SURROUNDINGS MAKE FOR A GREAT EVENT CENTER TO HOST YOUR CHARITY GOLF TOURNAMENT.
Set in the rugged natural setting of North East San Diego County, the names of the holes give you a hint for what is in store for you. Just picture holes named "Ledges", "Tree Tops" and "The Beach" to give you an idea of what to expect during your day at Mt. Woodson. Between holes two and three you will find yourself on a 450 foot wooden bridge unlike anything you have seen that winds through beautiful natural scenery and canyons. Make sure to visit the Hole Tour to get an extra special preview of all that awaits you. All of this, combined with great playing conditions every day, make Mt. Woodson a must play for all golfers.
Click Here For More Information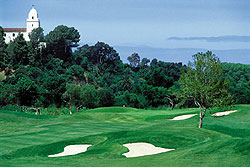 Riverwalk Golf Club, 1150 Fashion Valley Road, San Diego, CA 92110 (619) 296-4653
Steeped in a rich tradition of golf legends past, Riverwalk Golf Club offers a classic golfing experience like no other. Formerly known as the Stardust Country Club, the course entertained a myriad of golf's legends while hosting the PGA tour during the 50s and 60s. Now, golfers will once again be treated to the challenge and drama of the original course at the newly reborn Riverwalk.

What was once flat now features undulating fairways, waterfalls and well-protected bentgrass greens. Water comes into play on 13 of the 27 holes with a spectacular waterfall surrounding the green of the signature hole. The San Diego River is a prominent feature of the layout, contributing to the beauty and challenge of the course.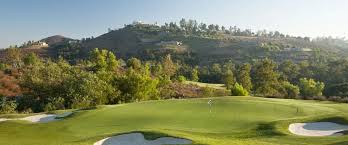 Maderas Golf Club, 17750 Old Coach Road, Poway, CA 92064 (858) 451-8100
San Diego's top rated golf course, Maderas Golf club is quietly tucked away amidst the rolling hills of north San Diego, just minutes from downtown. Designed by Johnny Miller and Robert Muir Graves, Maderas offers a unique combination of golf course strategy and design mastery, while taking the concept of upscale golf in San Diego to exhilarating levels.

Whether you are planning a wedding and reception, bar/bat mitzvah celebration, or any special occasion, Maderas Golf Club presents a new inspiration for private events. Del Lago ballroom and its gardens boast stunning golf course views that provide an exquisite back drop for parties up to 300 guests. Leave a lasting impression of your cherished affair with elegance and distinction.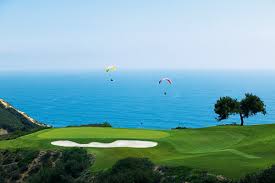 Torrey Pines Golf Course, 11480 N. Torrey Pines Road, La Jolla, CA 92037 (858) 452-3226

Welcome to the nation's foremost municipal golf course. Situated atop cliffs towering above the Pacific Ocean in San Diego, California, golfers marvel at the views of the coastline, deep ravines, and classic championship golf holes.

Torrey Pines is the beautiful site of one of the most memorable battles in golf's history--the 2008 U.S. Open. While taking in the views and gorgeous weather, discover our award winning golf shop where you can take home some of the magic.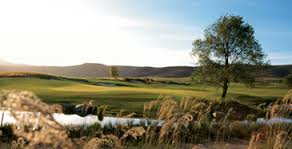 Barona Creek Golf Club, 1000 Barona Road, Lakeside, CA 92040 (619) 387-7018
Play golf at one of the top courses in California. Blending beautifully with the natural landscape of San Diego's rolling foothills, Barona Creek Golf Club is also one of California's most inviting golf courses.
Barona Creek golf course offers five tees to accommodate golfers of all skills and abilities. For those looking to be challenged at the expert level, the courese provides a championship layout from the Black Tees which boasts a course rating of 74.5 and 139 slope. It is ranked as one of California's top courses, in company with Pebble Beach and Spyglass Hill.